View Cluster Details
How to view details of a running cluster and its nodes.
Cluster Details Page
Once a cluster has been launched, its current operating details can be viewed by selecting the cluster from the Clusters View. This displays the Cluster Details page. From the Cluster Dashboard page, select Nodes to view the Nodes Summary page.
From the Cluster Details page, users can perform the following: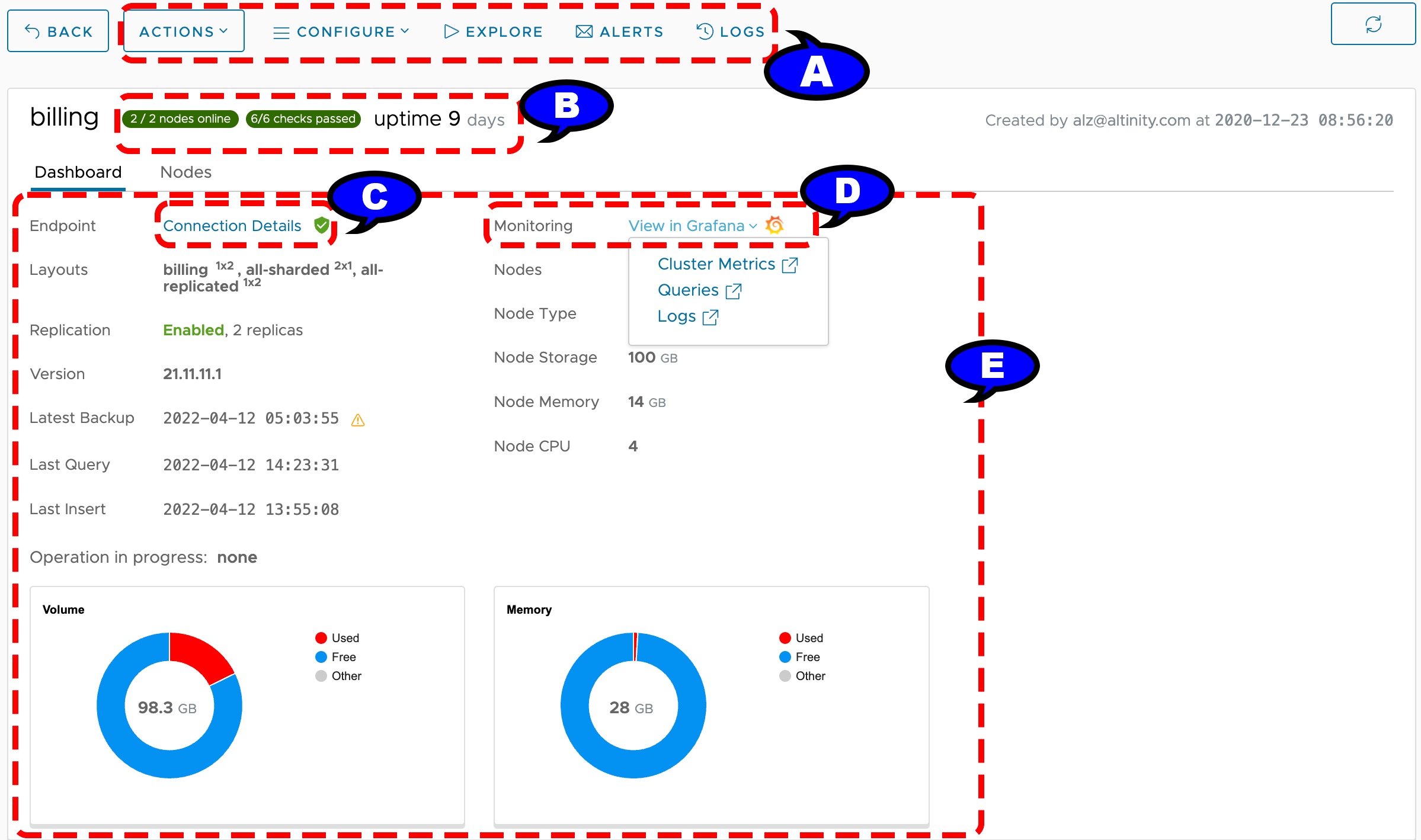 A: Manage the cluster's:

Actions
Configuration
Tables and structure with Explore
Alerts
Logs

B: Check Cluster Health.
C: View the cluster's Access Point.
D: Monitor the Cluster and its Queries.
E: View summary details for the Cluster or Node. Select Nodes to view details on the cluster's Nodes.
Nodes Summary
The Nodes Summary Page displays all nodes that are part of the selected cluster. From this page the following options and information is available:
The Node Summary that lists:

Endpoint: The connection settings for this node. See Node Connection.
Details and Node View: Links to the Node Dashboard and Node Metrics.
Version: The ClickHouse version running on this node.
Type: The processor setting for the node.
Node Storage: Storage space in GB available.
Memory: RAM memory allocated for the node.
Availability Zone: Which AWS Availability Zone the node is hosted on.
Node Connection
The Node Connection Details shows how to connect from various clients, including the clickhouse-client, JDBC drivers, HTTPS, and Python. Unlike the Cluster Access Point, this allows a connection directly to the specific node.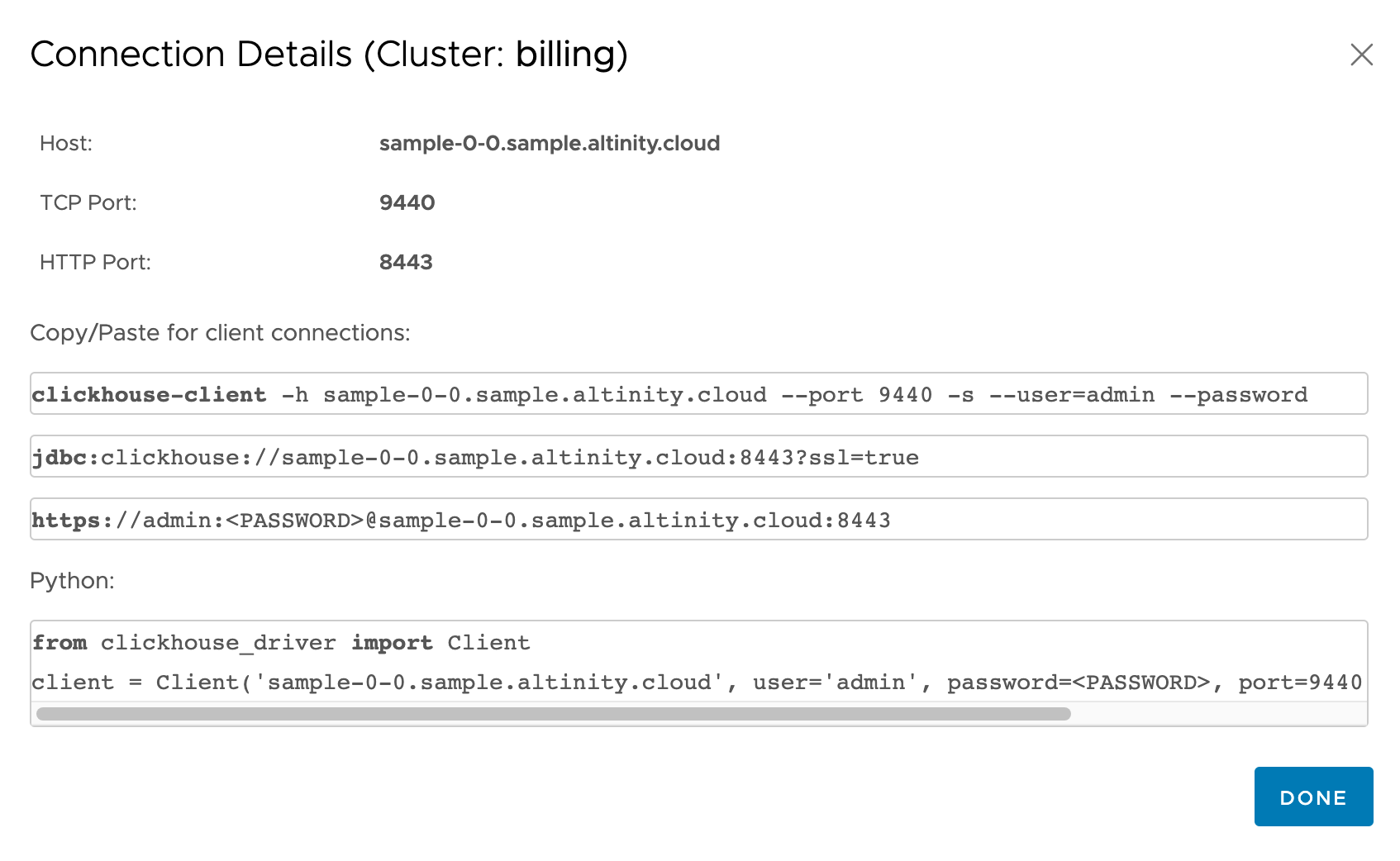 Node Dashboard
From the Node Dashboard Page users can: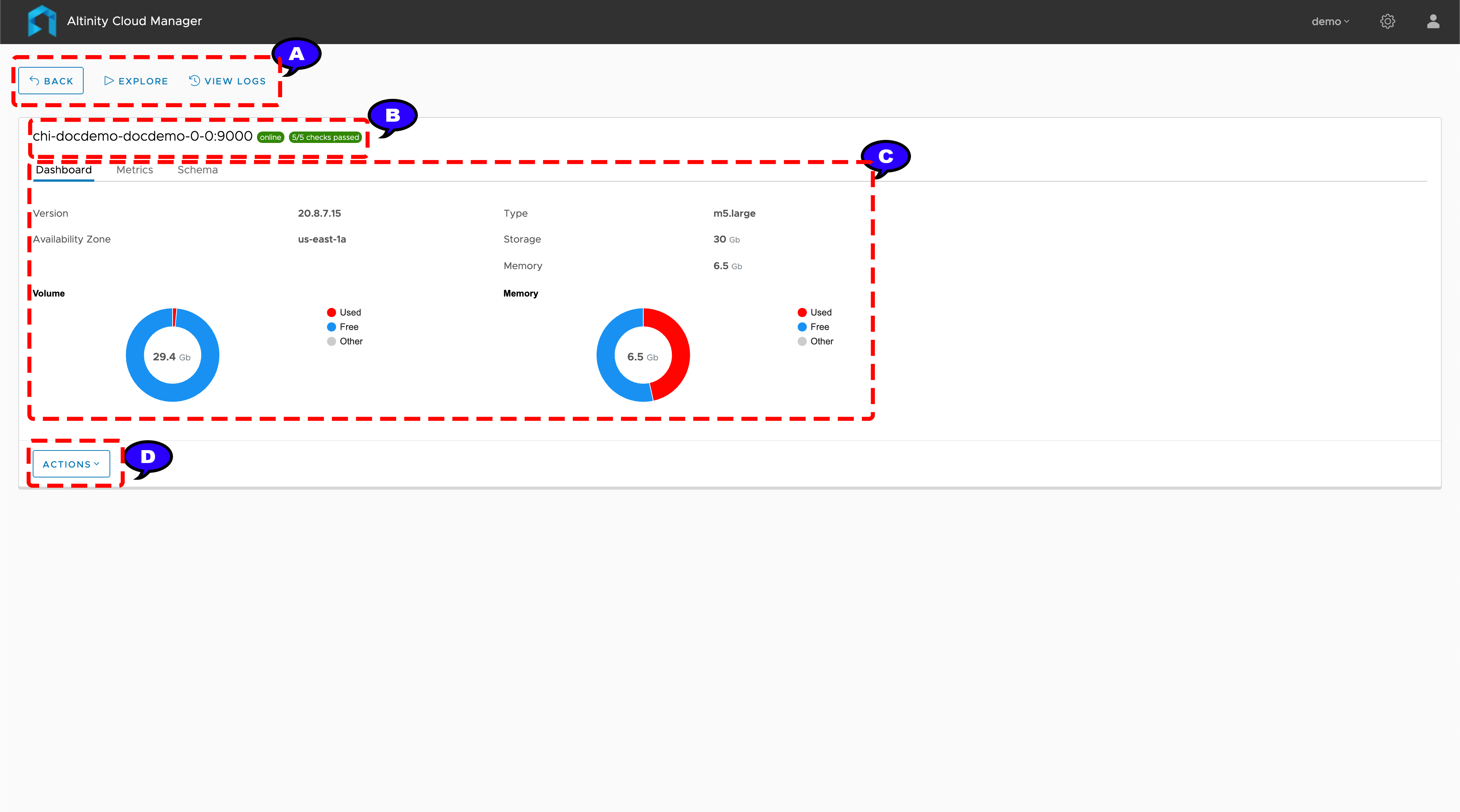 A: Manage the node's:

Tables and structure with Explore
Logs

B: Check the node's health.
C: View summary details node, it's Metrics and its Schema.
D: Perform Node Actions.
Node Metrics
Node Metrics provides a breakdown of the node's performance, such as CPU data, active threads, etc.
Node Schema
The Node Schema provides a view of the databases' schema and tables. For more information on how to interact with a Node by submitting queries, viewing the schema of its databases and tables, and viewing process, see the Cluster Explore Guide.
Feedback
Was this page helpful?
Glad to hear it!
Sorry to hear that. We'll track this issue and see how we can improve.
Last modified 2022.06.22: Altinity.Cloud updates.